There's just so much to say about Topps Museum Collection. As I mention in my box-break video below, this has become one of my favorite products each year thanks to gorgeous designs and tremendous variety. Every insert and parallel looks nicer than the last and the "hits" are out of bounds.
My review of 2014 Museum Collection Football summed up most of my feelings regarding this product's design, but the baseball version is extra special. The Baseball version of Museum Collection is the equivalent of taking your smart phone, playing a song, then plugging your phone into Dave Grohl's amp and sticking your head right next to it as he goes nuts on his guitar.
It's Museum Collection on steroids — pardon the baseball pun. Don't believe me? Take a look at just how much variety this product has in its set: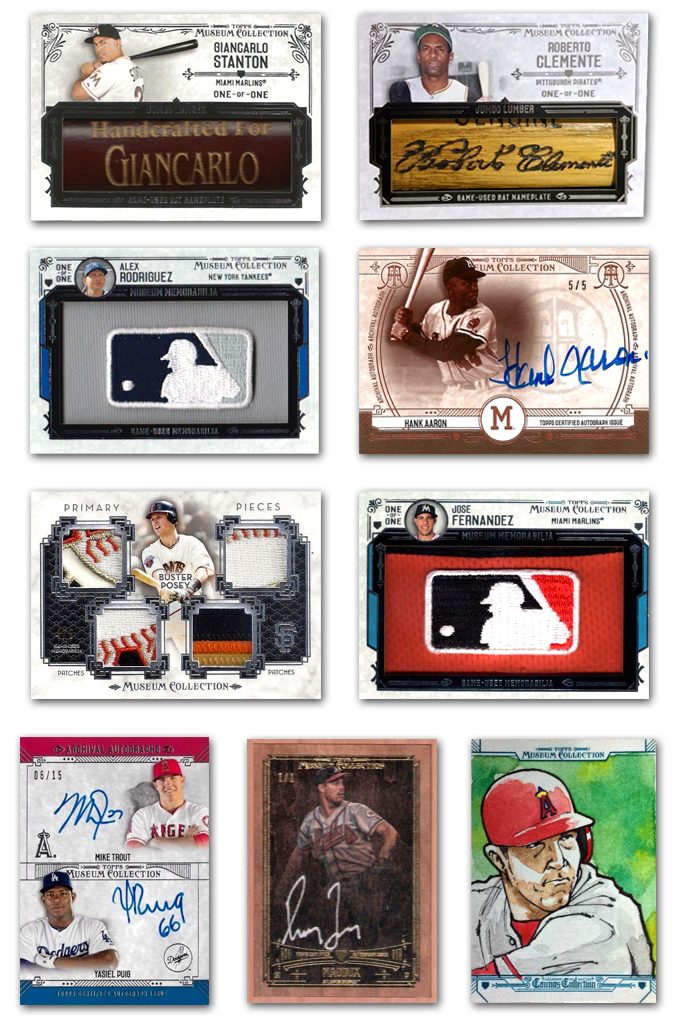 And that gallery doesn't even include the RIDICULOUS booklet patch autos that Topps has included in this set. I think if I were to save up enough money for a single case of baseball cards next year, it would be Museum Collection simply because busting the boxes is SO MUCH FUN. Between on-card rookie autos, dual autos, triple autos, veteran and HOFer autos, patch autos, prime memorabilia cards, original sketch cards, bat knobs, and laundry tags…you never know what you are going to get.
Moreover, the cards are highly-collectible and sell for big bucks. This is one of the few products that is enjoyed by re-sellers and collectors alike and I haven't seen a single box that I would consider a total "disappointment." My box actually contained the best hit I've ever pulled in my life (see below) … but as is our custom, we will be giving this card away to one of our lucky Sports Card Album members.
Just pulled a MONSTER from a box of 2015 @toppscards Museum Baseball. Will be a fun giveaway! Video coming soon… pic.twitter.com/theGgdmV1B

— SportsCardAlbum (@sportscardalbum) April 25, 2015
This will be, without a doubt, the best giveaway we've ever done…stay tuned to our Twitter account for details. In the meantime, check out some more juicy box breaks of 2015 Museum Collection Baseball below and be sure to let us know what YOU think of this product in the comments below (or on YouTube.)