Topps Supreme is a different animal…it's a beautiful and majestic animal, but it can really tease you. Unlike Museum Collection, which is an experience in every box, Supreme can be very "hit or miss" since you only get one hit per box. However, it's only 1/3 the price of Museum Collection, so there is much less risk for a chance at just as big of a reward.
Back when Topps first came out with "Supreme Football" back in 2010, collectors initially gawked at the notion of a single pack per box without a guaranteed autograph. However, once group breakers started busting cases collectors saw just how incredible the autographs and hits were…I remember forking over big bucks for a dual auto of Joe Montana and Sam Bradford. This was also the first product to use a beautiful gold foil behind the sticker autographs…an elegant touch that brought sophistication to a design element most card-manufacturers tried to hide.
[Editor's Note: I'm getting all nostalgic…if you are, too, check out my review of 2010 Topps Supreme Football here.]
Fast forward to today and not much has changed. The only big difference is that Topps now guarantees an autograph in each pack, which is a big deal. But other than that, the product still stands out as one of the best veteran products each year.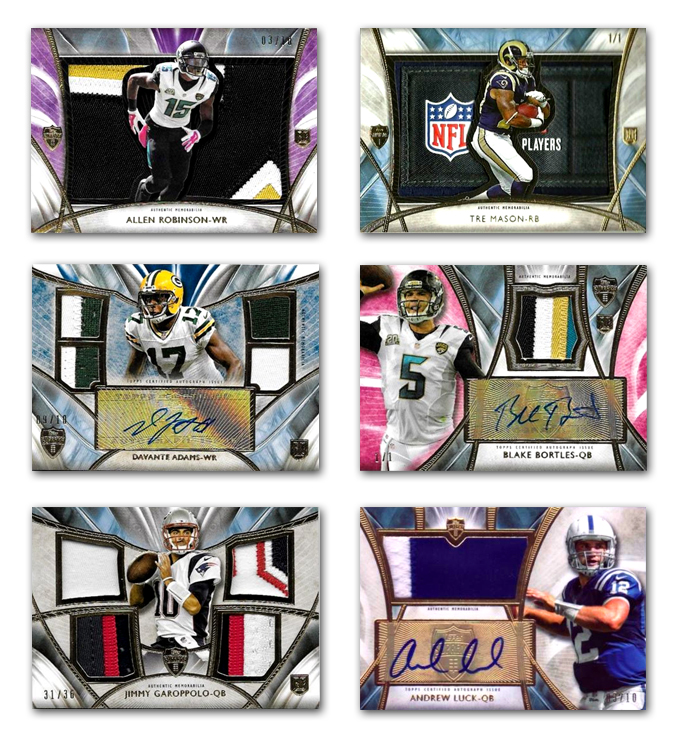 A couple of years ago Topps decided to bring booklets into the Supreme product. Instead of forcing them in, though, they brought some innovation in the form of hand-drawn plays, dual-veteran-game-used memorabilia, and the pairing of rookies with veterans. Rather than printing out thousands of them, each booklet in Supreme has a limited print run. Combine scarcity with sick designs and juicy patches and you've got a recipe for success. It's no wonder why Supreme booklets have become some of the most popular within the hobby.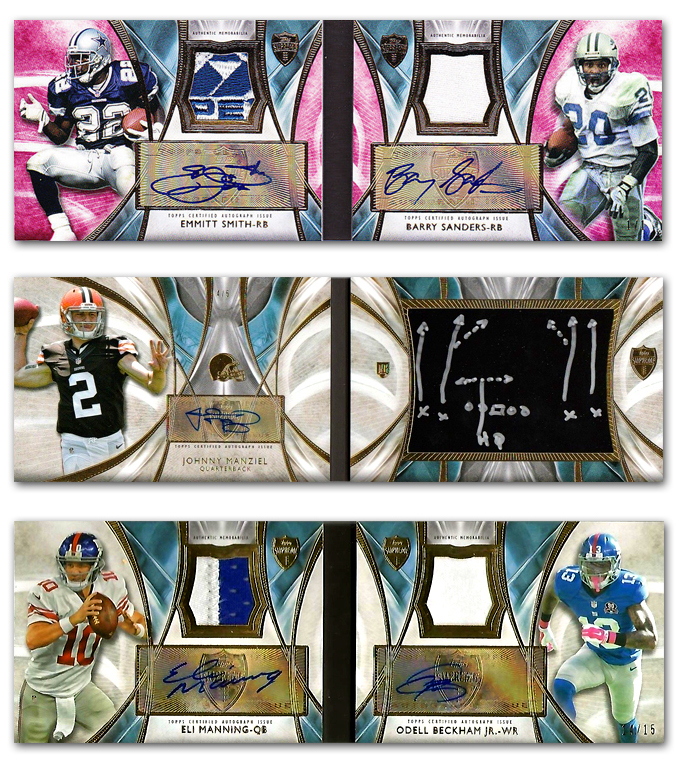 Like Museum Football, Supreme offers tremendous variety in the form of autographs, multi-player autos, single/dual/triple/quad patches, booklets, memorabilia autos and more. However, the feel of Supreme feels totally unique to Museum Collection or anything else. I believe the box-breakdown is a big reason for this…rather than being marketed as a "high-end" $200 box that not everybody can afford, Supreme comes in at $75 a box and gives everyone an opportunity to pull a high-end card from a box that's priced below low-end hobby boxes.

The trade-off is obviously the fact that you only get 4 cards in a box, but if you're searching for a BIG pull and are on a budget, Supreme is absolutely the best way to go. If you've got big bucks and can afford a case or two, it is rare to see a case of Supreme that doesn't include at least one rookie or veteran monster. Personally, I've never hit it big with Supreme, but I blame the fact that I've only bought one box at a time. However, when 2015 comes around I plan on pre-ordering three boxes to see if it improves my chances.
Conclusion: Topps Supreme is only five years old, but it has already become a well-loved brand within the hobby. Innovative takes on the ubiquitous booklet cards and a healthy mix of HOF veteran autographs make this product special. The ridiculously low price-point for a product with such high-value cards makes this a "must buy." You might strike out, but for only $70 it's a risk I'm willing to take…and if you get a bit lucky, you won't be pulling singles. This baby has been hitting home runs since it came out in 2010. Don't believe me? Check out this gallery from 2010 Supreme then scroll back up and take a look at how it's evolved over four years.