Topps Museum Collection is the sports-card example of elevating a simple food dish into an flavorful masterpiece. The sports-card hobby can often feel stale given the countless "look-alike" products that are launched each year, but Museum Collection stands out in every way.
The base-card design is simple, but flawless. Full-player images are printed on a thick card-stock and the monotone background really makes the player photography pop. But where the product really stands out is with the hits. This product gained immediate acclaim when Topps created the metal-framed cards a few of years ago. Adding a gold-ink veteran autograph to a gold-framed card results in something more akin to an heirloom than a collectible "trading card."
Although I didn't pull a gold framed auto in this box, I pulled one last year in the baseball product. Here is a small gallery to show you what I'm talking about with this set. They truly look like they belong in a museum.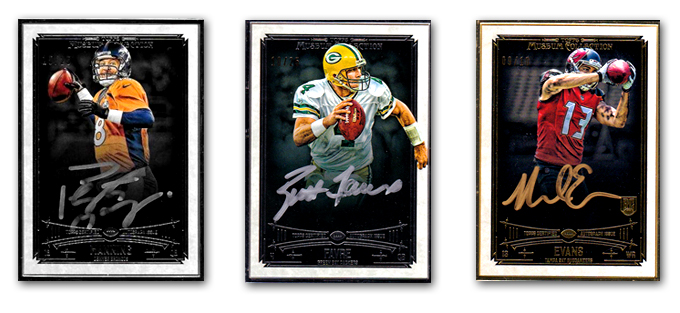 But the framed-autograph cards aren't the only hits to be excited about in Museum Collection. There are a variety of beautiful designs within this set, something that is hard for a company to pull off without making a product seem convoluted or confused. Topps maintains a consistent "feel" throughout all the insert sets and parallels and succeeds in making this feel like one really deep, well thought out product. Take a look at some of the parallels from my box: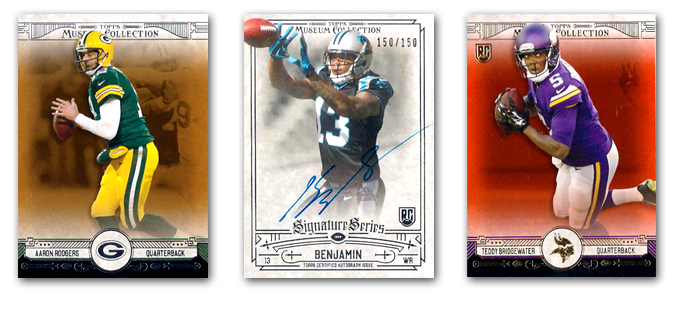 Rather than diluting the beautiful product with ridiculous designs, the parallels remain true to the base design, as do the on-card rookie autographs. The patch cards take elements from some of the most popular RPAs in the hobby and combine them in a classy way. Minimal foil-work, quality card-stock, great player photography, and sick patches. It's easy to see why collectors flock to this product.
But perhaps my favorite insert in this entire product is the "Canvas Collection" set. Topps introduced this concept back in 2008 with their "Masterpiece" Football set. Museum Collection seems to be the modern interpretation of this highly-collected set, and they elevated the concept by including actual one-of-a-kind original sketches in the product. Although I didn't pull the 1/1, even the reprints (like this Dan Marino I pulled) are popular among collectors.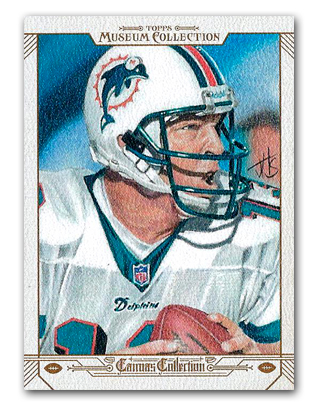 This is another perfect example of a set Topps could market as artwork. Honestly, if Topps sold full-sized canvas prints of cards like these, I would decorate my office with them. Even if they cost the price of an entire box of cards or more.
We are constantly on the forums and can't help but see what collectors think about every new release. Topps Museum Collection may be the least-complained-about product I've ever seen…and that's saying something.
Box Price: Between $150 – $200 (updated as of July 4th, 2015)
Box Breakdown: 4 mini boxes per master box, 5 cards per mini box
Pack Breakdown: 1 "hit" per mini box (pack)
Hit Breakdown: 1 mem auto per box, 1 quad relic per box, 1 jumbo relic per box, 1 additional auto per box, 1 canvas collection card per box
Overall: This product isn't cheap, but you get what you pay for. If you are a re-seller and want the most bang for your buck, there are MANY veteran autos (see the framed examples above) that sell for good money. However, if you are a collector that actually enjoys sports-cards (and isn't overly concerned about resale value,) this is a can't miss. I have never felt disappointed after busting a box of Museum Collection in either baseball or football. Highly recommend everybody tries a box of this, especially at the reduced price point now that 2015 products are around the corner.