About Sports Card Album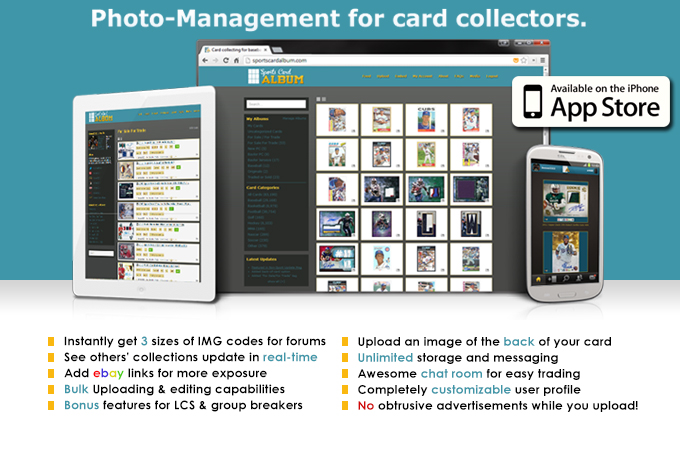 History of Sports Card Album
Sports Card Album is a Photo-management site for sports-card collectors. It allows collectors to add cards to their collection via their mobile devices or computers and offers an intuitive and feature-rich interface for managing collections and engaging with other collectors.
Like most collectors, we are used to buying, selling, and trading cards online. Typically, the process looks something like this:
Photograph and/or scan cards
Tweet or text images to friends
Upload Pics to Photobucket/Flikr/Imgur
Copy [IMG] codes from said photo-managing site
Add cards to your Beckett "Org" and/or spreadsheet
Add cards to forum post on Blowout/Beckett/FreedomCardboard/SportsCardForum/HobbyKings/COMC/etc
Type out player name, card description, and price per card if selling/trading
Link people to your Photobucket account for pictures of your collection

Here are a few problems with this process:
Too many steps
Beckett "Org" is great as a price guide, but does not include pictures of the cards for easy embedding
Photobucket allows you to add titles and images, but it falls short in a ton of areas specific to card collectors (tiny picture, only shows half of card, does not show full description, does not show card details, only shows X number of cards per page maximum, does not show Sell Value or Trade Value)
On Bucket you are bombarderd with obtrusive advertisements
Collectors cannot see (in real-time) what other collectors are posting
Bucket limits your bandwidth, so if you reach your monthly limit your embedded images will not work
Many collectors take pictures of their cards immediately with their cell phones so they can text or tweet their new pickups to friends. Having to re-scan an image after taking a cell-phone pic is redundant. Having to upload a cell phone pic to a photo-management site is even more redundant.
Here is what the process looks like with SportsCardAlbum.com
Open SportsCardAlbum on your cell phone and click "add card"
Choose the image/card from your camera roll (or take a pic)
Provide details like card description and sell/trade values (and tons more)
Tweet or otherwise share your image directly from SportsCardAlbum
Go to any sports card forum and copy your image code directly from SportsCardAlbum
Your SportsCardAlbum will automatically be updated and organized with your pictures and your card details. The format is a simple, clean, beautiful design that allows you and other collectors to see all of your card's information at once. If you are on a PC or tablet, your collection is visible in nice, clean rows with all the data available at a single glance. Or you can switch to "grid" view to see a bunch more cards at once.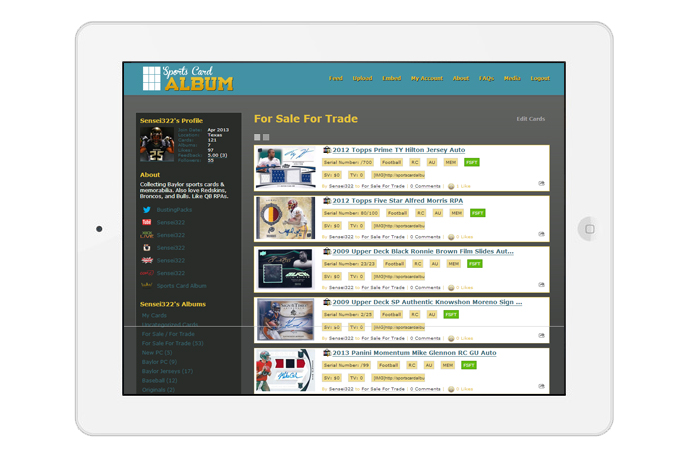 If you care to add additional details about your card, you can do so anytime from your mobile device or computer. You no longer have to maintain a spreadsheet, an org, and a bucket and have five windows open just to post on a forum. Want to add an album for your PC? Go for it. Another album for each sport? No problem.
Here are some additional features collectors love about Sports Card Album
Instantly get 3 sizes of IMG codes for forums (Small, Medium, Original)
Follow friends: See others' collections update in real time
Add eBay links for more exposure
Bulk Uploading & Bulk Editing capabilities
Upload an image of the back of your card
Unlimited storage and messaging
Awesome chat room for easy trading
No obtrusive advertisments while your cards upload!
We also offer expanded features for hobby-related companies like:
Manufacturers
Card Shop Owners
Group Breakers
Bloggers
To learn more about our "Verified" program and the expanded features for hobby-related companies, e-mail: Verified@sportscardalbum.com
Bottom Line: Organizing your collection and sharing it with the world has never been easier.
How it works
Sports Card Album Demo July 28 2014 from Sports Card Album on Vimeo.
Free iPhone App Demo
Sports Card Album Free iPhone App from Sports Card Album on Vimeo.