About Sports Card Album
History of Sports Card Album
Most of you know that I'm a fanatical collector. Well, six months ago I decided I would begin saving up money for a case of 2012 National Treasures. One day, after I had saved up (almost) enough for a single box ($500,) I decided I just couldn't take the cumbersome collecting process anymore. I was sick of photographing, scanning, uploading, linking, and needing to have three windows open to complete a trade or sell a card on a forum. So I decided to spend my $500 on an idea I had to help me organize my own collection.
Six months later, I've spent my life's savings on the development of this product. But I am thrilled with what I'm about to show you and think it was worth every penny.
Like most of you, I am used to buying, selling, and trading cards online. Typically, the process looks something like this:
Photograph and/or scan cards
Tweet or text images to friends
Upload Pics to Photobucket/Flikr/Imgur
Copy [IMG] codes from said photo-managing site
Add cards to your Beckett "Org" and/or spreadsheet
Add cards to forum post on Blowout/Beckett/FCB/COMC
Add price per card if selling/trading
Link people to your Photobucket account for pictures of your collection
Here are a few problems with this process:
Too many steps
Beckett "Org" is often slow and does not include pictures of the cards
Beckett audience is limited because only subscribed members can utilize the "Org"
Photobucket allows you to add titles and images, but it falls short in a ton of areas specific to card collectors (tiny picture, only shows half of card, does not show full description, does not show card details, only shows X number of cards per page maximum, does not show Sell Value or Trade Value)
Many collectors take pictures of their cards immediately with their cell phones so they can text or tweet their new pickups to friends. Having to re-scan an image after taking a cell-phone pic is redundant. Having to upload a cell phone pic to a photo-management site is even more redundant.
Here is what the process looks like with SportsCardAlbum.com
Open SportsCardAlbum on your cell phone and click "add card"
Choose the image/card from your camera roll
Provide details like card description and sell/trade values (and tons more)
Tweet or otherwise share your image directly from SportsCardAlbum
Go to any sports card forum and copy your image code directly from SportsCardAlbum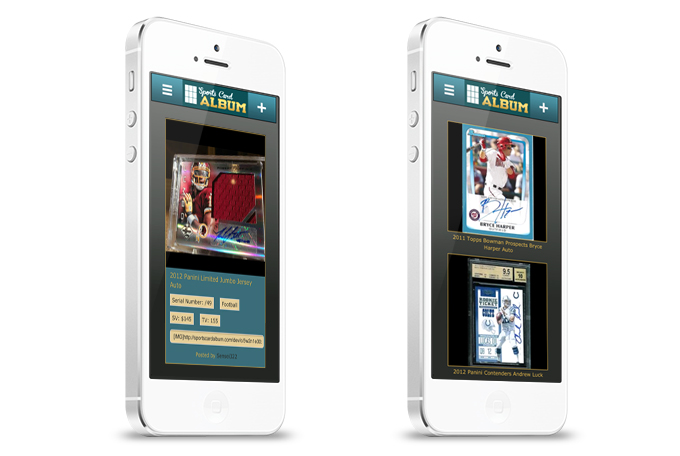 Your SportsCardAlbum will automatically be updated and organized with your pictures and your card details. The format is a simple, clean, beautiful design that allows you and other collectors to see all of your card's information at once. If you are on a PC or tablet, your collection is visible in nice, clean rows with all the data available at a single glance.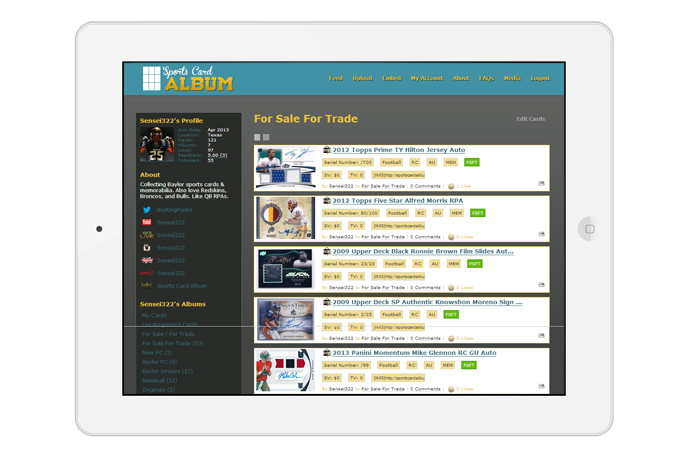 If you care to add additional details about your card, you can do so anytime from your mobile device or computer. You no longer have to maintain a spreadsheet, an org, and a bucket and have five windows open just to post on a forum. Want to add an album for your PC? Go for it. Another album for each sport? No problem.
Organizing your collection and sharing it with the world has never been easier.

That's it. Get going. Enjoy.
Here's a video of me explaining how it works:
Sports Card Album Compared to Bucket:
Here's a link to the blog post with a bunch of the new features: UPDATES